15 July 2021
Amsterdam, The Netherlands
Peter R. de Vries
Motive
Exposure of illegal activity
For nine long days, the Netherlands held its breath. On a July evening in central Amsterdam, investigative reporter and crime journalist Peter R. de Vries had just left the TV studio where he appeared as a regular guest on a talk show. While walking to his car, he was shot five times. Witnesses and police officers say the perpetrator shot the 64-year-old De Vries in the head. He remained in critical condition in hospital for nine days.
As they waited anxiously, well-wishers laid flowers in the Lange Leidsedwarsstraat, where the journalist had been shot. When his family eventually announced his passing, the country's heart sank. Thousands of mourners lined up to pay their final respects to a man who, according to a former colleague, had 'stood up for everyone'. Comments circulating in statements after his death referred to him as noble, just and unafraid in the face of threats.
An icon in Dutch journalism, De Vries redefined crime reporting during his career. He published countless scoops on the kidnapping of Freddy Heineken, Dutch businessman and heir to the beer emporium in the 1980s, which brought him national recognition. He devoted his journalistic career to fighting injustice and specialized in miscarriages of justice, often supporting families of missing children. While his advocacy work also courted criticism, many knew that if De Vries shone a light on a case, there would be little chance of it being forgotten.
And his list of achievements was vast. The Golden Clue, a foundation he had created to raise money to reopen the case of Dutch student Tanja Groen, who had disappeared in 1993, reached its 1 million euro target two days before his death. He helped free two men who had been wrongly convicted in a murder case; he won an International Emmy Award in current affairs for his coverage of the Natalee Holloway case – a US citizen who had disappeared during a graduation trip; he assisted the police in their 20-year-long investigation into the death and rape of Nicky Verstappen, an 11-year-old boy. But up to that point, De Vries had steered clear of issues around transnational organized crime. That would change.
In early 2021, De Vries stepped in as the legal advisor to Nabil Bakkali, a former gang member turned key witness in a criminal case against alleged Moroccan-Dutch crime boss Ridouan Taghi (which became known as the Marengo case). Seventeen people, including Taghi, are believed by the authorities to be connected to a number of murders and attempted murders. They are thought to be part of a syndicate that operates about one-third of Europe's cocaine trade from Belgium and the Netherlands.
Before De Vries's death, Bakkali's lawyer at the time, Derk Wiersum, and Bakkali's brother were also assassinated, most likely because of their involvement in the Marengo case. De Vries realized the high price that had already been paid because of the trial, according to criminologist Hans Nelen of Maastricht University. But this did not deter him from getting involved.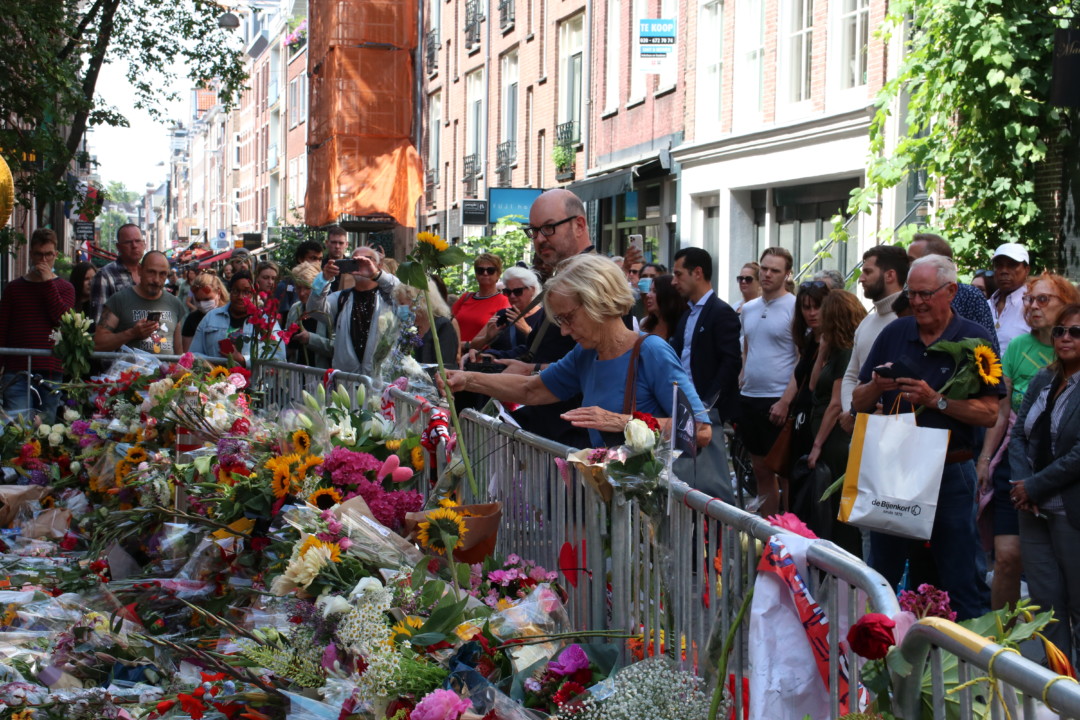 Since the death of De Vries, organized crime's statement is loud and clear: anyone who as much as considers to act as a key witness, as an informant, will pay a price.
'First it was the witness's brother, then his lawyer, so to connect Peter's murder with the Marengo case too seems a given. It seems like everyone surrounding the key witness has a target on their back,' said Sven Brinkhoff, a specialist in criminal procedures and professor at the Open University. Indeed, according to some sources one of the two suspects arrested shortly after the shooting has been connected to the drug ring, facing charges in the Marengo case. The official investigation into the potential involvement of Ridouan Taghi is ongoing. The court case against the suspected shooter and the driver is due to continue in March 2022.
Members of civil society groups say that they are worried that the government thinks their approach to serious crime is adequate. Experts would wholeheartedly agree. 'Before the assassination of Derk Wiersum,' Brinkhoff said, 'the Netherlands was naive about the threat of dealing with a key witness.' However, 'since the death of De Vries, organized crime's statement is loud and clear: anyone who as much as considers to act as a key witness, as an informant, will pay a price.' They are lessons that have been learnt the hard way, but these attacks linked to the Marengo case are likely to lead to tighter security measures for key witnesses and those close to them.
However, Nelen believes resources could be used in a smarter way. 'We should follow the money, learn how these networks function and then cut them off at the source, make it difficult for them. Instead, we celebrate another drug interception in Rotterdam harbour. This is just low-hanging fruit.'
In the case of De Vries, an investigation into the level of protection he received from the state is currently ongoing. In 2019, the police had informed De Vries that he was on Taghi's hit list. Unafraid and pragmatic as ever, he made the news public and was reluctant to have a personal security team.
Regardless of whether it is proven that he was targeted due to his role as a spokesperson for Nabil Bakkali or as a journalist, many view De Vries's assassination as a direct attack on freedom of speech and democracy in the Netherlands. Shortly after he was taken to hospital, the country erupted into chaos: politicians, journalists, lawyers, police officers and the king were quick to identify the attack on De Vries as an attack on the country. Their concerns proved well founded: just over two months after De Vries's death, the media reported that security around Prime Minister Mark Rutte had increased following indications of a potential attack by criminals linked to the drug trade had been allegedly received by the police. 'Journalists, judges, mayors, public prosecutors – they're also subject to regular harassment,' said Nelen. 'Over the last ten years, the threats have changed, they have become more serious.'
Since De Vries's murder, many have been left wondering about the future of the role of the key witness and how this might change the manner in which the Dutch tackle organized crime. As the Marengo trial continues, Nabil Bakkali will be subject to interrogation in a high-security court room in Amsterdam. Peter Schouten will serve as his lawyer and will mourn the empty courtroom chair where his friend De Vries would have sat with him.
January 2023 update
In the last few months, a number of arrests have been made in connection to De Vries's murder. In September 2022, a 30-year-old man was detained in Poland on suspicions of helping prepare the murder. His arrest follows those of a Dutch national and a Polish national in July 2022, accused of participating in planning and executing the murder. In July 2022, two other Dutch suspects were detained overseas, one in Curaçao and the other in Spain. The arrests have prompted the Amsterdam court to order a new trial for the case. The latest suspect of being part of the criminal group involved in the murder was arrested in the city of Tilburg in January 2023.