15 May 2022
Santander de Quilichao, Colombia
Édgar Quintero
Motive
Environmental and indigenous activism
To murder a leader is to destroy his community
Lea la versión en español más abajo
'My niece, you must become governor of Cauca. You have to be better than me, I have taught you everything I know so that you can become a leader. Look at Francia [Márquez, the Colombian vice president]: she is an achievement for us as black people; she is a woman who taught a lesson to all of us who thought that women were not good for leadership.'
The words of Édgar Quintero reverberate in Carolina Mosquera's head. She is wearing earrings crafted in the shape of Colombia and an African-print jacket, which tell the story of her people, their struggles and resistance. For centuries, armed groups such as the Revolutionary Armed Forces of Colombia (FARC-EP) have sought to occupy Afro-Colombian territories named Consejos Comunitarios (community councils, which have their own ancestral government and justice mechanism protected by the constitution), threatening their residents. These men silenced Quintero, and they have tried do the same with his wife and children, who fled their home. Carolina, Quintero's niece, who has become a leader in her community, despite having been displaced, knows they will want to do the same to her.
On 15 May 2022, as Quintero, former president of the neighbourhood association (Junta de Acción Comunal, JAC) of Lomitas, a rural village in Cauca, Colombia, was returning home from grazing his cows, he saw gunmen approaching. He tried to make a run for it, but they caught up with him and shot him dead. The next day, a man approached and threatened Carolina, giving her three hours to leave the village. She gathered her things and has not yet returned.
Intimidation by armed groups is part of the history of Lomitas. In 2000, many villagers, including Quintero, were displaced as paramilitaries set up a base there. The village is a strategic position for armed groups, as it is located in a drug trafficking corridor between the mountains, where coca and marijuana crops are grown, and the Naya area, which connects to the Pacific Ocean.
After Colombia's paramilitary-group demobilization process, which took place between 2003 and 2006, many villagers returned to Lomitas. One of them was Quintero, who took the lead on development initiatives provided by Colombia's land restitution policy, such as growing pineapple and yucca crops, and breeding livestock. He became part of the neighbourhood association and a member of the guardia cimarrona – the local ethnic authority for black communities in Colombia. Quintero was also involved in processes related to the brokering of a 2016 peace agreement between the government of Colombia and FARC-EP, namely, a reparation plan for Lomitas victims.
Not all FARC-EP soldiers welcomed the peace agreement, however, and some dissident groups and other criminal actors have stepped into the space left by former FARC members, acting with autonomy in controlling certain illicit economies and territories. There are more than 30 such dissident groups across the country, some of whom either have not accepted the peace agreement or else abandoned it during the initial demobilization stages. Other criminal actors, such as the National Liberation Army (ELN) and People's Liberation Army (EPL), are also trying to gain the territories and control criminal economies left by FARC-EP, which, along with the presence of drug traffickers, has increased the levels of violence against civil society targets. In 2019, the office of the ombudsman had issued early warnings about the presence of a FARC dissident group in the area, who were recruiting young men, in violation of the peace agreement.
That same year, Quintero and a number of community leaders of the Association of Community Councils of Northern Cauca (ACONC) and the Afro-Colombian movement – including Francia Márquez, now vice president of Colombia; Clemencia Carabalí, founder of the Association of Women of Northern Cauca (ASOM); ACONC's senior councillor, Victor Hugo Moreno, and renowned activist Carlos Rosero – were gathered at the La Trinidad farm in Lomitas, preparing for discussions with the government, when armed men burst in and attacked them. This incident marked a new wave of violence in Lomitas: on 24 December 2021, a hitman on a motorbike assassinated Leonardo Aguilar Renteria, another community leader. Quintero and others held a protest against the violence, but in February 2022, two other community members were found dead. And in May, Quintero became the fourth local victim – one of more than 160 social leaders killed in Colombia in 2022 so far, of which Cauca is one of the worst affected regions.
To date, no arrests have been made for Quintero's murder. Investigations are being conducted by the special investigation unit, which deals with cases involving community leaders. What is clear to those close to Quintero is that he was murdered because of his leadership activities in Lomitas, including his strong opposition to the arrival of dissidents and armed groups such as ELN and EPL.
After Quintero's murder, the ombudsman's office stated that they had warned of the danger he was in: 'We had warned of the imminent danger faced by this leader, president of the JAC and member of the Cuenca del Río Cauca and Río Teta community councils. On 9 August 2021, we asked the authorities to tighten up his protection measures,' they said. However, their requests elicited no effective response from the state, as is the case with most of the threats made to social leaders in the country. A community member in Lomitas said they knew that several people in the village were being threatened.
Carolina is afraid, but she has inherited her uncle's bravery. Her whole family has been part of this process of resistance and resilience, and they seek to continue Quintero's work. 'As my uncle would have wanted, we are still standing,' she said.
'To murder a leader is to destroy his community,' said Francisco de Roux, president of Colombia's Truth Commission, one of the three institutions of the country's Comprehensive System of Truth, Justice, Reparation and Non-Repetition created under the 2016 peace agreement. And that is what those who ordered Quintero's murder tried to do – to terrorize the people of Lomitas and take away the voice with which they have fought for their territorial rights.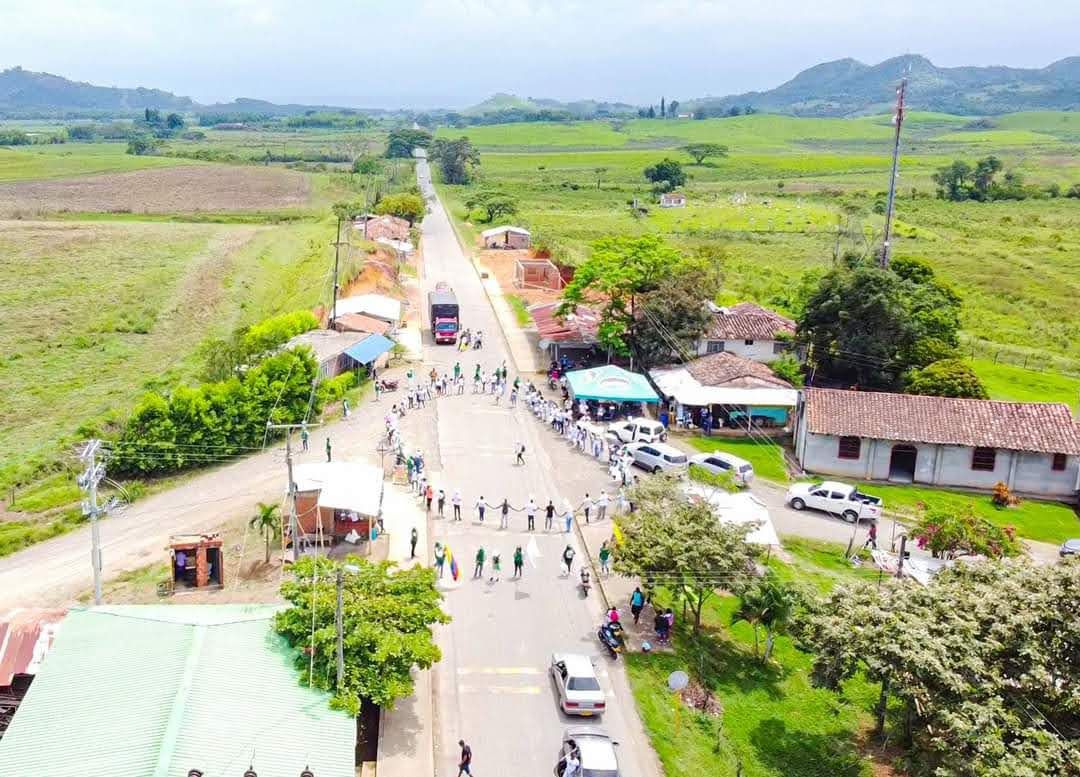 Asesinar a un líder es destruir a su comunidad
Versión en español
«Vea sobrina, usted por poquito tiene que ser gobernadora del Cauca. Tiene que ser mejor que yo, que yo no me he matado enseñándole tantas cosas para que no asuma el liderazgo. Mire a Francia [Márquez, la vicepresidenta colombiana]: ella es un logro para nosotros como negros; vea una mujer berraca, que nos enseñó una lección a todos que pensábamos que las mujeres no servían para liderar».
Las palabras de Édgar Quintero resuenan en la cabeza de Carolina Mosquera. Ella lleva unos aretes con el mapa de Colombia y una colorida chaqueta con grabados africanos, estampados que cuentan la historia de su gente negra, de sus luchas, de su resistencia. Durante siglos, grupos armados como las Fuerzas Armadas Revolucionarias de Colombia (FARC-EP) han intentado ocupar territorios afrocolombianos denominados Consejos Comunitarios –que tienen su propio gobierno ancestral y un mecanismo de justicia protegido por la Constitución–, amenazando a sus habitantes. Estos hombres silenciaron a Quintero y han intentado hacer lo mismo con su esposa y sus hijos, que huyeron de su hogar. Carolina, su sobrina, que se ha convertido en lideresa de su comunidad a pesar de haber sido desplazada, sabe que querrán hacer lo mismo con ella.
El 15 de mayo del 2022, cuando Quintero, expresidente de la Junta de Acción Comunal (JAC) de la vereda Lomitas, Cauca, regresaba de pastorear sus vacas, vio que se le acercaban unos sicarios. Intentó huir, pero lo alcanzaron y lo dispararon. Al día siguiente, un hombre se acercó y amenazó a Carolina, dándole tres horas para abandonar el lugar. Ese mismo día tomó sus cosas y no ha podido regresar.
La intimidación por parte de grupos armados forma parte de la historia de Lomitas. En el año 2000, muchos de sus pobladores, incluyendo a Quintero, fueron desplazados cuando paramilitares instalaron allí una base. Lomitas es un sector estratégico para los grupos armados y un corredor de narcotráfico entre la Cordillera Central, donde hay cultivos de coca y marihuana, y la zona del Naya, que conecta con el océano Pacífico.
Tras la desmovilización de las autodefensas, entre 2003 y 2006, muchos pobladores regresaron. Uno de ellos fue Quintero, que se puso al frente de las iniciativas de desarrollo previstas en la política de restitución de tierras y trajo proyectos productivos para la comunidad: cultivos de piña y yuca, ganadería, pollos de engorde y lagos con peces. Además, fue el presidente de la JAC de su vereda y era parte del consejo comunitario. Era guardia cimarrón, encargado de velar por su territorio. La guardia cimarrona –similar a la guardia indígena– hace parte de un proceso de fortalecimiento de la justicia ancestral del pueblo negro. Quintero también participó en los procesos relacionados con la intermediación de un acuerdo de paz de 2016 entre el Gobierno y las FARC-EP, concretamente un plan de reparación para las víctimas de Lomitas.
Sin embargo, no todos los integrantes de las FARC-EP acogieron el acuerdo de paz, y algunos grupos disidentes y otros actores criminales han ocupado el espacio dejado por los antiguos miembros de las FARC, actuando con autonomía en el control de ciertas economías y territorios ilícitos. Hay más de 30 disidencias de este tipo en todo el país, algunas de las cuales no han aceptado el acuerdo de paz o lo han abandonado durante las fases iniciales de desmovilización. Otros actores criminales, como el Ejército de Liberación Nacional (ELN) y el Ejército Popular de Liberación (EPL), también tratan de obtener territorios y controlar las economías criminales dejadas por las FARC-EP. Esto, junto con la presunta presencia de narcotraficantes, ha aumentado los niveles de violencia contra objetivos de la sociedad civil. En 2019, la Defensoría del Pueblo emitió alertas tempranas por la presunta presencia de la columna Jaime Martínez, disidencia de las FARC, y por el posible reclutamiento de jóvenes para estos grupos, violando el acuerdo de paz.
Ese mismo año, Quintero y varios líderes de la Asociación de Consejos Comunitarios del Norte del Cauca (ACONC) y del movimiento afrocolombiano (entre ellos Francia Márquez, actual vicepresidenta de Colombia; Clemencia Carabalí, fundadora de la Asociación de Mujeres del Norte del Cauca; el consejero mayor de ACONC, Víctor Hugo Moreno, y el reconocido activista Carlos Rosero) estaban reunidos en la finca La Trinidad, en Lomitas, preparándose para los diálogos con el Gobierno, cuando hombres armados irrumpieron disparando y lanzaron una granada. Este incidente marcó una nueva ola de violencia en Lomitas: el 24 de diciembre del 2021, un sicario en moto asesinó a Leonardo Aguilar Rentería, otro líder comunitario. Quintero y otros realizaron una protesta contra la violencia, pero en febrero de 2022, otros dos miembros de la comunidad fueron encontrados muertos. Y en mayo, Quintero se convirtió en la cuarta víctima local, uno de los más de 160 líderes sociales y defensores de los derechos humanos asesinados en Colombia en lo que va de 2022, de los cuales el Cauca es uno de los departamentos más afectados.
Hasta la fecha, no se ha producido ninguna detención por el asesinato de Quintero. La investigación está siendo realizada por la Unidad Especial de Investigación de la Fiscalía, que se ocupa de los casos relacionados con los líderes sociales. Lo que sí tienen claro las personas cercanas a Quintero es que el motivo de asesinato está relacionado con su liderazgo en Lomitas, incluyendo su fuerte oposición a la llegada de disidencias y grupos armados como el ELN y el EPL.
Tras el asesinato de Quintero, la Defensoría del Pueblo recalcó que habían advertido del peligro que corría: «Habíamos advertido del inminente peligro que corría este líder, presidente de la JAC y miembro de los consejos comunitarios Cuenca del Río Cauca y Río Teta. El 9 de agosto de 2021 solicitamos a la institucionalidad mejorar sus medidas de protección», dijeron. Sin embargo, sus peticiones no obtuvieron ninguna respuesta efectiva por parte del Estado, como ocurre con la mayoría de las amenazas a líderes sociales en el país. Un miembro de la comunidad de Lomitas dijo que sabían que varias personas del pueblo estaban siendo amenazadas.
Carolina tiene miedo, pero heredó la valentía de su tío. Toda su familia ha formado parte de este proceso de resistencia y resiliencia, y pretenden continuar la labor de Quintero. «Como mi tío hubiera querido, seguimos en pie», afirma.
«Asesinar a un líder es destruir a su comunidad», dijo Francisco de Roux, presidente de la Comisión de la Verdad de Colombia, una de las tres instituciones del Sistema Integral de Verdad, Justicia, Reparación y No Repetición del país creado en el marco del acuerdo de paz de 2016. Y eso intentaron hacer quienes ordenaron la muerte de Quintero: aterrorizar a la población de Lomitas y quitarles la voz con la que reclaman sus derechos territoriales.