23 August 2021
Johannesburg, South Africa
Babita Deokaran
Her name has now become synonymous with the government's inaction on whistle-blower protection
'That morning, she sent a message to the family group chat, like she always did,' said Tony Haripersadh of his sister-in-law, 53-year-old Babita Deokaran. Tony was used to her morning messages. 'She was full of life,' he added. 'The glue that held the family together.'
But her message that morning was to be the last one he would receive from his sister-in-law. Later in the day (23 August 2021), she was gunned down outside her home near Johannesburg. Deokaran had just returned from dropping her daughter off at school. Her car, ­the windows smashed and the driver's door peppered with bullet holes, provided clear evidence that her death had been planned: it was an orchestrated, close-range targeted killing.
Months later, the family is still struggling to sleep at night, traumatized by thoughts of Deokaran's painful last moments. They are grappling to come to terms with her assassination.
Deokaran was a dedicated civil servant. During 30 years of government service, she had climbed the ranks of the Gauteng Department of Health, starting as an accounting clerk and working her way up to chief director of financial accounting. But her family did not know that she had discovered rampant corruption within the Gauteng provincial government and that she had decided to blow the whistle. She kept this information from her family, a decision Tony interpreted as her trying to protect them.
Tony acknowledged the bravery his sister-in-law's actions entailed. 'She was a very strong, courageous woman; she endured this battle all alone,' he said. He only wished he had known of her whistle-blowing while she was alive so that he could have advised or protected her
Following the assassination, the Special Investigating Unit, a forensic investigative agency of the state, confirmed that Deokaran had been a key witness in a multi-million-rand fraud investigation linked to alleged improper COVID-19 personal protective equipment tenders. Deokaran blew the whistle on corrupt colleagues – influential politicians who had allegedly fraudulently manipulated tenders for their own benefit.
On 27 August, four days after her murder, six suspects were apprehended. The men all hail from KwaZulu-Natal, a South African province known for supplying hitmen for hire, contract killers willing to murder for a fee. They were all denied bail. The media reported that one of the accused confessed and implicated South Africa's former health minister, although the confession was later withdrawn, as the accused said it was obtained under coercion. On 12 April 2022, the six accused were formally indicted with charges of murder, attempted murder, and illegal possession of firearms and ammunition. The case has moved up to the Johannesburg High Court and the prosecutor identified around 50 witnesses to testify. But the question of who ordered the hit still remains unanswered.
Deokaran's assassination has brought to the fore the intense dangers whistle-blowers can face. It is a risk that ought to be mitigated, according to Johann van Loggerenberg, a former South African Revenue Service executive, who spoke out publicly about state capture in the organization in which he used to work. 'When you have a witness in such a matter, aside from extracting the evidence from the witness and using them for testifying in court, as the state, you have the responsibility to take care of their wellbeing,' he said.
Whistle-blowers are pivotal to uphold the rule of law and contribute to public accountability. While international instruments such as the United Nations Convention against Corruption and the United Nations Convention against Transnational Organized Crime impose obligations on witness and whistleblower protection, states often fail to comply. If there is no state entity or agency capable of providing protection to those who cooperate with law enforcement or stand before courts supporting the prosecution's case, it is unlikely that they will risk their lives to speak out against corruption or organized crime, which are likely to go unreported or uninvestigated, contributing to a climate of impunity and lack of criminal justice.
That Deokaran, having disclosed such key information to the Special Investigating Unit, was not given private security is indicative of a system in need of overhaul, argued the Active Citizens' Movement (ACM), which campaigns for whistle-blower rights. 'It is brave people like Deokaran who will speak out and then be mercilessly taken out,' said ACM chairperson Pops Rampersad. He added that it should not require death threats for whistle-blowers to be offered protection –they should be offered protection pre-emptively.
According to Rampersad, there is a grave disconnect between the government's anti-corruption rhetoric and its anti-corruption machinery. 'The government has an anti-corruption strategy, but this will not work if witnesses and whistle-blowers are not offered protection,' he said.
Rampersad fears that Deokaran's assassination may have the effect of disincentivizing others contemplating blowing the whistle on malfeasance. The brutality of her assassination has sparked panic among South Africa's whistle-blowing community. Many are asking themselves: 'Who will be killed next?'
Athol Williams, a prominent whistle-blower from Cape Town who exposed alleged corruption at the consulting firm Bain, fled the country in November 2021, not long after Deokaran's assassination. From an undisclosed location, he issued a statement saying he feared for his life. 'After Babita Deokaran was assassinated, concerns spiked, because it showed that authorities were choosing not to proactively protect whistle-blowers,' he wrote. 'Knowing that my government offers me no protection after I've acted in the public interest is a disturbing reality.'
The South African Commission of Inquiry into Allegations of State Capture has relied heavily on whistle-blower testimony from the likes of Williams and others. The fact that they are key to exposing the depths of corruption in the country at great potential personal risk has prompted the chair of the Commission, Chief Justice Raymond Zondo, to recommend that protection of whistle-blowers ought to be drastically improved. Zondo recommended, among other measures, setting up an anti-corruption agency designed to manage whistle-blower disclosures.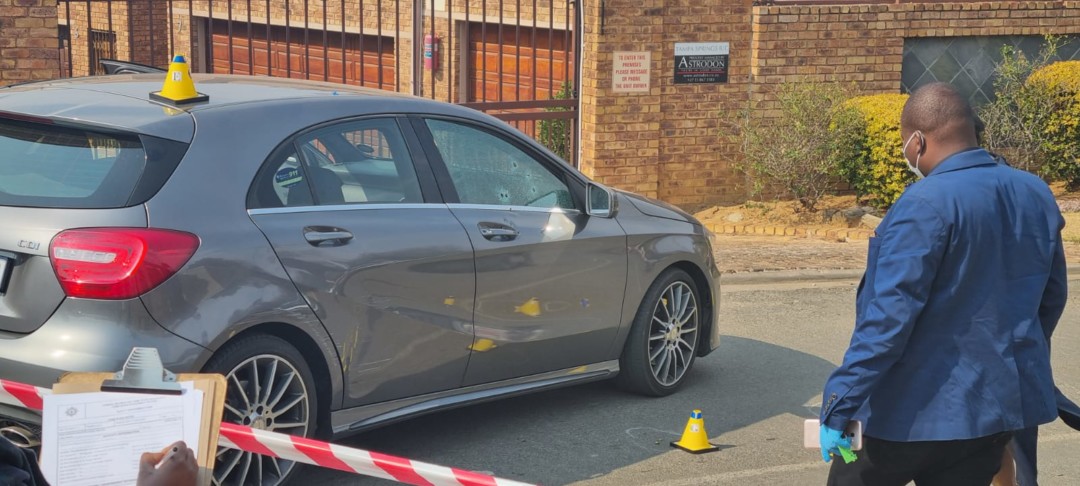 Deokaran's assassination has galvanized potential change in the way whistle-blowers in South Africa will be treated and protected going forward
Before Deokaran was killed, President Cyril Ramaphosa had admitted to the Commission that 'whistle-blowers have not had a great time in our country' and that this was something he regretted. These words would take on far greater weight months later, when news of Deokaran's killing broke on national headlines.
Ramaphosa issued an open letter to the country, labelling Deokaran a 'hero'. He wrote: 'They [whistle-blowers] speak out in good faith and with a reasonable expectation not only that action will be taken on their disclosures, but that they will be protected and not suffer victimization or prejudice.'
Deokaran had not received such protection. Her name has now become synonymous with the government's inaction on whistle-blower protection. So much so, that in his State of the Nation address in February 2022, Ramaphosa dedicated a portion of his speech to improving the protection of whistle-blowers, whom he considers 'a vital safeguard in the fight against corruption'.
Ramaphosa attached a timeline to this promise, saying that by the end of June the same year he would present a plan of action in response to recommendations in the Commission's report. 'We are doing a detailed review of all applicable legislation … The relevant law enforcement agencies are taking the necessary steps to address the immediate concern about the safety of whistle-blowers,' he said.
Deokaran's assassination has galvanized potential change in the way whistle-blowers in South Africa will be treated and protected going forward. But these potential measures come too late for the Deokaran family, who now turn to photographs and stories to keep her memory alive. 'She knew what was right and what she stood for, and nothing could deter her,' said Tony. 'Our family will be eternally proud of her.' That her actions will not have been in vain is their greatest wish.
In life, Babita Deokaran exposed corruption; in death, she exposed gaping holes in South Africa's approach to whistle-blower protection, failures that others are now emboldened to mend. This will be her legacy. 'Whoever was responsible for this assassination silenced one voice, but strengthened a million other voices in the country and internationally. To us, she will always be our hero,' said Tony, beaming with pride.