15 July 2021
Kiambu, Kenya
Joannah Stutchbury
Motive
Environmental and indigenous activism
With her unwavering stance on land grabbing in Kiambu, Stutchbury may have signed her own death warrant
On 15 July 2021, 67-year-old environmental activist Joannah Stutchbury was killed barely 200 metres from her home in Kiambu, Kenya, purportedly for her role in protecting a nearby forest area from developers.
At around 10 p.m., Stutchbury was getting out of her car in order to clear the driveway to her property, which was blocked with branches, when she was shot six times at close range. One of Stutchbury' employees, identified only as Ndabu, said that he had received a call from another employee asking whether he had heard the gunshots that had pierced the otherwise still night. It was Stutchbury's neighbours who then later found her lying dead in her car, the engine still running and her possessions untouched – suggesting that the attack was a planned assassination, not a robbery.
Stuchbury was outspoken and unapologetic in her activism, particularly around issues relating to the Kiambu biodiversity ecosystem, on the outskirts of Nairobi. She had recently been campaigning to protect the Kiambu Forest Reserve from felling by wealthy developers and land grabbers. With soaring prices, land in Kiambu Forest is increasingly sought after for housing developments, and Stutchbury was a committed defender of the forest.
So devoted was Stutchbury to the conservation of nature that she had fashioned her whole life around sustainable environmental practices. She had prohibited single-use plastic carrier bags in her household some 30 years before the Kenyan government adopted its official ban in 2017. In an article in the Daily Nation, Stutchbury's friend Rose Lukalo described how the environmentalist had given up the house she built and lived in for 25 years in favour of a more environmentally friendly cottage, which had been constructed using locally foraged materials and traditional construction methods.
However, Stutchbury's passion for sustainability and environmental justice meant that she frequently came into conflict with powerful individuals, including well-connected private developers. In a headline-grabbing incident in 2018, she had single-handedly attempted to prevent the clearing of a nearby wetland to make way for a road by climbing into the bucket of an excavator. This single act and the publicity it received successfully caused the confiscation of very expensive equipment that was being used to drain the area, much to the anger of the developers. The developers had allegedly levelled death threats at her in response and even pulled a gun on her, which she reported to the police, as she had done with the many other threats she had received in the course of her advocacy work. In this instance, the Kenya Forestry Service (KFS) had intervened in the development and sanctioned the wetland area, effectively stopping the demolition, but little was done to protect Stutchbury. Indeed, with her unwavering stance on land grabbing in Kiambu, Stutchbury may have signed her own death warrant. In the months before her murder, she had openly told friends, colleagues and family that she feared for her life.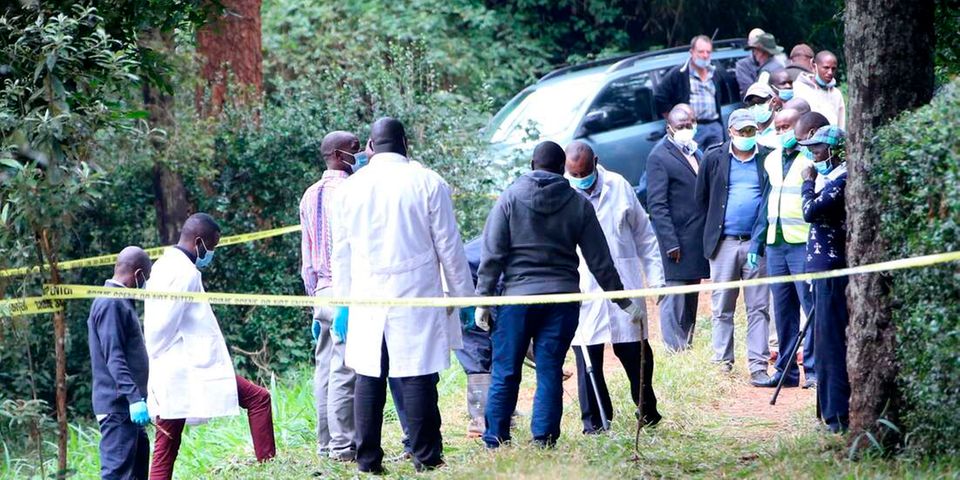 There seems to be an understanding that those combating environmental crimes in Kenya can take their campaigns only so far, after which point they risk paying with their lives
Environmental crimes are often linked to other forms of criminality, including money laundering, tax evasion and fraud, and frequently carried out by the same networks. And in Kenya, access to land, which is highly controlled by the state, has created an environment particularly amenable to infiltration by criminal actors, with government officials reportedly teaming up with criminal actors to launder money through the sale and purchase of land. In 2020, The Sentry, an investigative team responsible for following the dirty money connected to 'African kleptocrats', observed Nairobi real estate to be a popular avenue for laundering the proceeds of crime and corruption. The report pointed to persistent loopholes in anti-money-laundering standards involving real estate, which illicit actors were able to exploit.
The far-reaching implications of organized crime syndicates in Africa's land and real-estate sectors are known, and there is little doubt that the criminal web involved in illegal public land allocation in Kiambu is an intricate one. Although little data is available on the elaborate and transnational nature of organized crime surrounding the development sector, corrupt state actors are almost certainly complicit. Testament to this is that many of the developers that Stutchbury challenged were able to provide the requisite government documentation permitting them to clear the forest areas they were found operating in.
Despite the lack of evidence linking Stutchbury's murder directly to the organized networks involved in land acquisition in Kiambu and Nairobi, the circumstances behind her death suggest that it was a targeted assassination. In fact, work on assassinations in eastern and southern Africa conducted by the Global Initiative Against Transnational Organized Crime has shown that issues relating to land in the Kiambu region were in part responsible for a spike in assassinations in 2015.
In a press release dated 16 July, President Uhuru Kenyatta condemned Stutchbury's murder, demanding that those responsible be pursued and prosecuted to the full extent of the law. The press release also urged the Directorate of Criminal Investigations (DCI) to expedite its investigation into the killing and make public the status of any findings within two weeks. In a statement released the same day, civil-society organizations, including Amnesty International and Wildlife Direct, called on the DCI, the KFS and the Ministry of Environment and Forestry to thoroughly investigate Stutchbury's murder and issued a set of demands aimed at safeguarding Kenya's forest reserves and protecting the environmentalists defending them.
However, environmental activists like James Wakibia are sceptical of the Kenyan government's commitment to preventing the grabbing of protected forest land by private developers. Wakibia expressed his concern over the fact that the land grabbers always seem to be able to produce the necessary authorizing documents, as had been Stutchbury's experience: 'How do these individuals obtain title deeds that have been duly ratified and given a clean bill by the lands ministry on gazetted land? How do you get a title deed of a public forest?' he asked. 'This thievery must be supported by proponents in the hierarchy of the government.'
Wakibia and fellow environmentalists are firmly of the belief that Stutchbury's murder was an assassination and that one need not look too far to identify the suspects. Yet, as of January 2023, no public arrests had been made in connection with the case. This is not an unusual occurrence in Kenya, where activists of all kinds have been publicly threatened, abducted or killed in cold blood, with little or no action having been taken in response. There seems to be an understanding that those combating environmental crimes in Kenya can take their campaigns only so far, after which point they risk paying with their lives, as Stutchbury appears to have done.